Eating for Health
Article | Patient Education

Jan 24, 2020

Nini Mai, DACM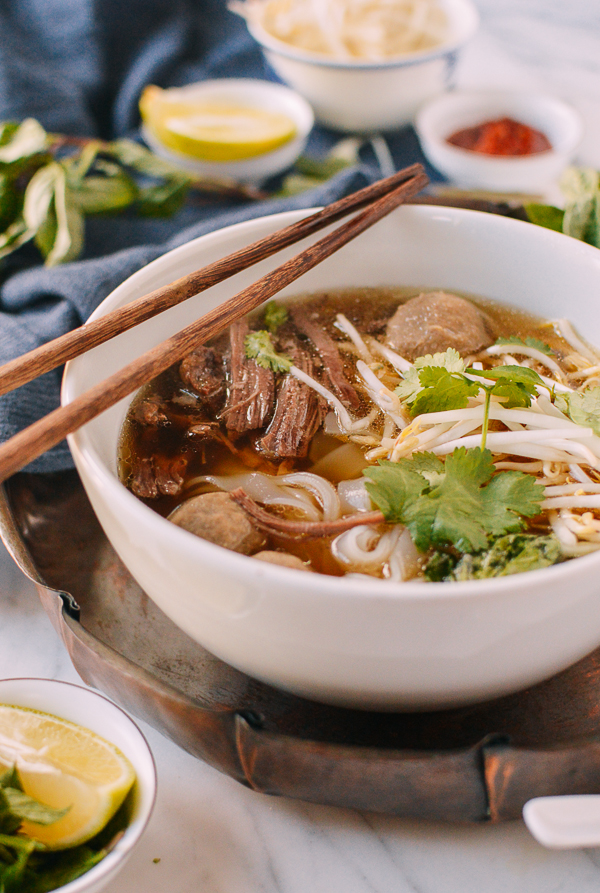 Looking for more ways to enjoy that bone broth or even make it your yourself? Pho is perfect for winter with it's warming qualities and aromatic spices. Using an Instant pot cuts your cook time in half without losing the benefits of a super rich broth.
Instant Pot Pho
Recipe and Photo Credit: The Woks of Life
Cook Time: 3 hours
Servings: 6
Ingredients for the broth:
2  3-inch pieces of ginger, cut lengthwise
2 medium onions, peeled
4 pounds beef marrow and/or knuckle bones
1 1/2 pounds beef chuck
3 scallions, cut into 4-inch lengths
1/3 cup fish sauce
2 ounces rock sugar or 3 Tablespoons granulated sugar
2 teaspoons salt
3 star anise
5 cloves
1 small cinnamon stick
1 black cardamom pod
2 teaspoons fennel seeds
2 teaspoons coriander seeds
3 1/2 quarts water
To assemble the pho:
Dried pho vermicelli noodles or Shirataki/Shirakiku noodles for a low carb option (THESE ones come in cute, yummy bundles)
Thinly sliced onion
Mung bean sprouts
Thai basil
Lime wedges
Cooked beef balls or thinly sliced eye of round (optional)
Method
Start by charring your ginger and onions. Use tongs to hold the ginger and onions over an open flame, or place directly on an electric burner. Turn until they're lightly blackened and fragrant about 3 minutes. Rinse away the blackened skins and set aside.
Place the bones and beef chuck in large stockpot and add water to cover. Bring to a boil and boil for 5 minutes. Drain in a colander and rinse. This process will give you a much cleaner broth.
Set aside your beef chuck in the refrigerator for use later. Transfer the bones to your Instant Pot, along with the charred/cleaned ginger and onions. Add the scallions, fish sauce, sugar, and salt.
Now toast the spices (star anise, cloves, cinnamon stick, black cardamom, fennel seeds, and coriander seeds) in a dry pan over medium low heat for about 3 minutes, until fragrant. Use kitchen string to tie up the spices in a piece of cheesecloth, and add it to the pot. Cover everything with 3 ½ quarts of water.
Seal the Instant Pot and place on the manual high pressure setting for 120 minutes. Allow the pressure to release naturally (15-30 minutes). Add the beef chuck and put back on the meat/stew setting for 30 minutes.
Use the Quick Pressure Release, and when the Instant Pot is once again safe to open, skim the broth for excess fat and impurities. Adjust seasoning by adding more salt, sugar, and/or fish sauce to taste.
To serve, boil the noodles according to package instructions. Add to a bowl. Place some slices/shreds of the beef chuck on the noodles. Cover with broth, and garnish with sliced onion, bean sprouts, and Thai basil, and be sure to squeeze some fresh lime juice over the top! You can also add some cooked beef balls or thinly sliced eye round if you like.